I detest bards, apparently. This was instantly dropped at my consideration after I began taking part in Legend of Keepers at present, a dungeon crawler (within the vein of Darkest Dungeon) the place as an alternative of combating the monsters, you are the monsters and also you battle the heroes. You are a boss monster, in actual fact, and it is your job to guard your treasure towards events of daring adventurers: sorcerers, fighters, archers, rogues, monks.
And bards. Which it seems I've some lengthy, unrecognized, deep-seated hatred for. I actually had no concept till I killed my first bard in Legend of Keepers, and took nice pleasure in first poisoning, then burning, then slashing that lute-strumming tune-warbling flaxen-haired jerk to loss of life.
Wow. I actually do hate bards. 
If brutally killing a man simply because he has a guitar sounds a bit imply, don't be concerned. There's type of a light-hearted office comedy vibe to Legend of Keepers. Lore has it there is a mega-corporation operating dungeons all all through the realm, and I am a brand new worker, an evil centaur with a whip, a large axe, and some highly effective spells at my disposal. I can rent minions like skeletons, ogres, ice-chucking yetis, poison-spewing zombie scientists, and extra, and set them up in my dungeon to defend towards what some contemplate heroes however are actually framed as invasive, murdering thieves. Which, let's face it, is what adventurers often are.
I also can buy traps to arrange in some dungeon chambers, together with my favourite, a ridiculously big sawblade that slashes via the heroes for bodily and bleeding injury the second they stroll within the room. And naturally, I actually wait within the boss battle room on the finish of the dungeon in case any heroes make it that far. Flip-based fight ensues because the heroes arrive to steal—sure, steal: it doesn't belong to them—my treasure.
It is a fairly acquainted fight system should you've performed video games like Slay the Spire, the place there are numerous assault and injury varieties, and also you attempt to whittle down your enemies earlier than they do the identical to your monsters. The animation is superb, and I really like watching as my skeletal archer pulls again its bowstring and unleashes a flurry of poison arrows down on the heroes, or my zombie scientist slugs no matter potion he was engaged on and spits it throughout the room into some elf sorcerer's face. The heroes are animated splendidly too, just like the bard, who I hate, who strums his lute and sings his little tune and a swarm of rats seems and gnaws nice chunks of well being off my trustworthy minions.
Much more satisfying than killing heroes is scaring them a lot they flee—along with well being bars, the adventurers have morale meters, and you probably have minions who focus on demoralizing assaults, you'll be able to finally simply chase the heroes away. This delightfully grants you hero tears, which (together with blood and gold) you'll be able to spend on varied upgrades. Cry some extra, bard.
After a celebration of heroes has been defeated, you busy your self by performing actions till the following invasion by one other randomized set of adventurers. You'll be able to let your monsters recuperate—falling in a battle to a hero will injury their morale, too—and put contemporary crew members of their place. Spend gold to talent them up with a coaching session, and even enhance their morale with remedy periods. Look, they're monsters, however they've emotions, too.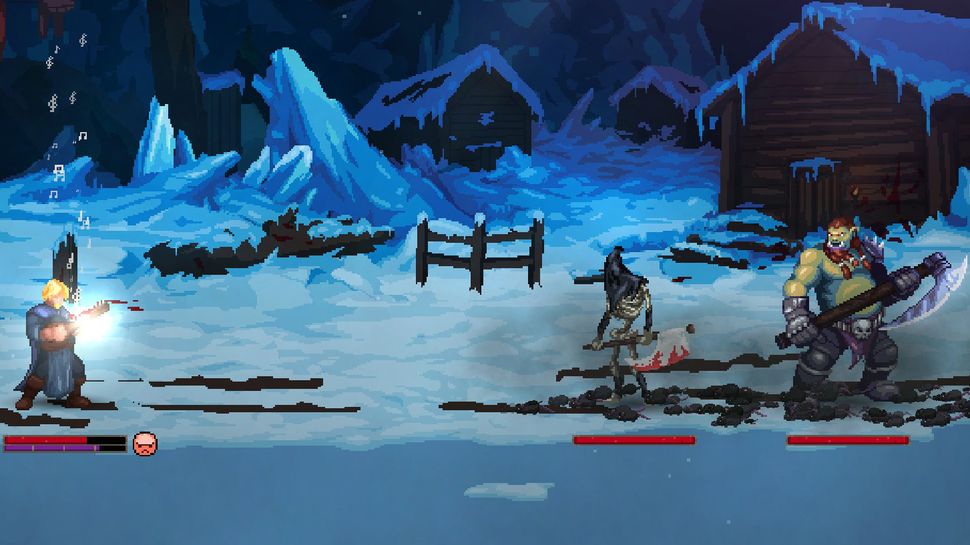 It's also possible to select to expertise a random occasion. One time I bought to lease my traps to different dungeon masters for further gold. One other occasion let me ship a celebration out raiding to earn extra treasure. I had some vampire accountants go to so I may pay my taxes (they settle for blood as an alternative of gold). And also you get to make selections about find out how to take care of these occasions, like when my goblin janitor's pet supermodel died and I may resurrect it (to realize some tears of pleasure), promote the corpse to the chef (for gold), or throw a funeral (prices gold however features numerous tears). I selected to carry the lifeless bug again to life. I am an evil boss, however a considerate one. 
To this point, Legend of Keepers is not as slick or satisfying as a sport like Darkest Dungeon, and I am unsure how lengthy it's going to really feel contemporary—a number of of my minions are sort of boring, and I are inclined to hold them in my reserves and stick to the extra enjoyable ones for many raids. I am already a bit drained with my very own centaur boss and his considerably underwhelming assault varieties, too.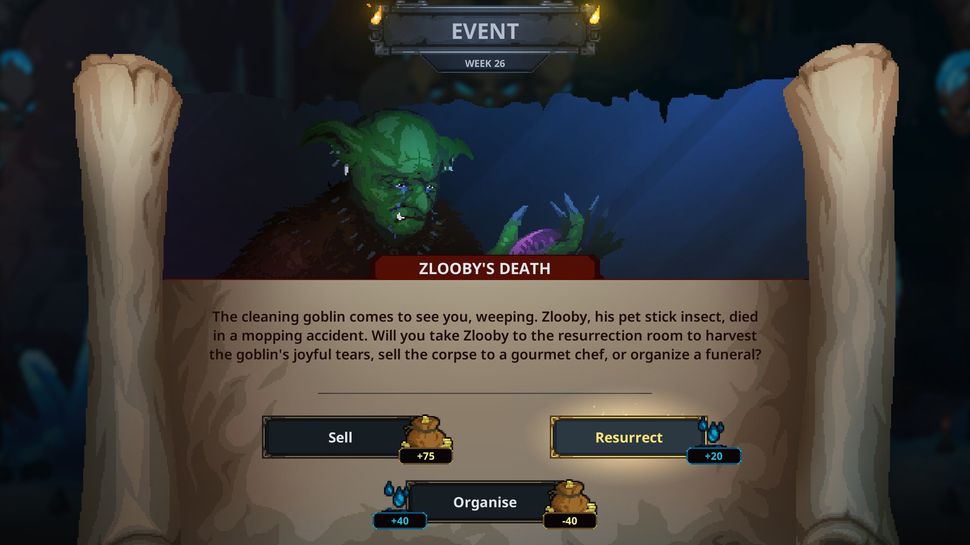 However raids end rapidly so there's not a lot time to get bored earlier than I am again to tinkering with my crew and seeing what new occasions would possibly crop up. I believe I benefit from the time between hero raids greater than I do the raids themselves. It provides the sport a bit extra persona and allows you to really feel such as you're legitimately operating an evil monster dungeon enterprise, as foolish as it'd sound.
And I do love most of my minions, particularly since I discovered a relic that offers me a pleasant buff if I've an all-skeletal crew in a room collectively. I simply unlocked a skeleton lord, too, which suggests my trustworthy bones brigade goes to get even stronger. Cannot wait to sicc them on the following bard who dares attempt to steal my treasure.